English A
Language & Literature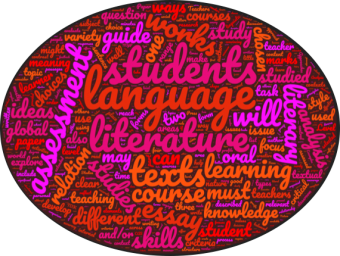 This very attractive subject covers an extremely wide range of issues and skills. Curiosity, creativity, scientific scrutiny, and plain fun are key. You can enroll in English A: Language and Literature at Higher Level or Standard Level. The course is very popular among FKG IB DP students.
What are the objectives of this course?
In English A Language and Literature you actively engage with language and culture and thus with how we see and understand the world. You learn to think critically about the interactions between text, audience, and purpose in a wide range of fields such as canonized literature, government propaganda, advertising, movies, cartoons, social networks on the Internet, Youtube, blogs, and similar aspects of today's media reality. You will develop skills in analysis and also learn to appreciate the aesthetics, the beauty of verbal and visual texts. In addition, you will develop your language skills further and practice academic and creative writing, rhetoric, presenting, and also have the opportunity to do performances and role-plays. Having skills in these areas also helps you excel in your other IB DP subjects!
The curriculum evolves around the three official assessment objectives
Know, understand and interpret
Analyse and evaluate
Communicate
What will we cover in this course?
Studies in this course will evolve around three Areas of Exploration (AOE):
Readers, writers, and texts
Time and space
Intertextuality: connecting texts
In every AOE, the seven Central Concepts of the course will be considered:
Identity
Culture
Creativity
Communication
Perspective
Transformation
Representation
In every AOE, we will study literature (including literature in translation) and language, using a wide range of texts that give us the opportunity to
explore how language develops in specific cultural contexts, how language shapes individual and group identity
examine different forms of communication, the potential for educational, political, or ideological influence, and the way mass media use language and image to inform, persuade, or entertain
consider the relationship between literature and issues at large, such as gender, power, identity, literary, and cultural traditions
develop awareness of the rich complexities of texts and the intricacies of their construction
explore literary works in detail, analyse elements such as theme, the ethical stance, or moral value, and study the appropriate use of literary terms
Standard-level students read four literary works (novels, plays, collections of short stories or poems, etc.), for higher-level student it is six works. Both study a number of non-literary Bodies of Work (BoWs) along with the literary texts. The text choices are different every year – recently, students have studied:
The graphic novel Persepolis by Iranian author Marjane Satrapi,
The novel Mother to Mother by South African writer Sindiwe Magona
Speeches by Malala Yousafzai and Nelson Mandela
These are just some examples.
The course can be organised in different ways, it does not necessarily follow an AOE-by-AOE structure.
What do I have to do for this course?
As in all courses, regular attendance and active participation in class are key. This includes classroom discussion, graded and ungraded presentations, group work, and similar activities. Throughout the course, you will keep a portfolio – this is where you reflect on every text we study in class. You will do mock exams (written and oral) regularly.
How will I be tested in this course?
The final exams for this course consist of two written exams (Paper 1 and Paper 2; external assessment) and an oral exam (the Individual Oral; internal assessment). As a higher-level student, you write an academic essay (the HL Essay; external assessment) in addition.
What do I need for this course? How do I prepare?
This is a course that requires genuine interest in literature, a wide range of texts, and the media. You need basic knowledge about how to read literature and how to speak about language. Both your analytical and your creative side will be challenged in this course.
For preparation – read! Read the news, read political and cultural (online) magazines or blogs, and read books that interest you, be it Graphic Novels, historical fiction, romance literature, or non-fiction.
For additional information please also refer to the official IB subject briefs:
Subject Brief: Language and Literature A SL/HL
Zurück (Subjects Group 1)