IB-History class at YLAB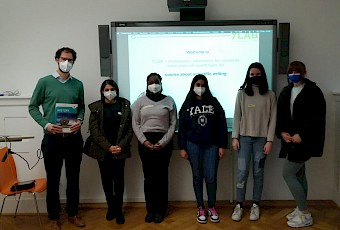 History Ylab excursion
By Queen Rufaro Madziro and Sarah Parker
On February 7, 2022, Mr. Glowsky and his IB2 history class visited the Ylab at Georg-August University
in Göttingen to attend a workshop on academic research papers.
There they listened to a presentation and completed a few handouts. Students were also given the
opportunity to ask questions about their own papers in both history and other classes. Subtopics such as
the aim of research papers, planning and time management, research techniques, and citation styles were
discussed during this workshop.
The workshop was generally well received by the students. One commented, "I liked it when we learned
about the search engine BASE (Bielefeld Academic Search Engine). It seems pretty based and I think I'll
use it in the future." Students also enjoyed discussing how much time should be allotted to each stage of
writing their papers, and comparing how different time schedules work for different people.
The excursion was rather short but immensely helpful. Prior to the event, many of us felt very insecure
about the various tasks that we had to write. The IB diploma challenged us to write our first academic
essays and the workshop helped clarify many questions we still had. We learned how to identify
appropriate sources, make use of the local library and narrow down our research topics.. Personally, the
most helpful tip was learning how to use Google searches to optimize your results and how to somewhat
beat the algorithm and obtain more impartial results.
The workshop was not only a chance to learn more about research papers but also to interact with our
classmates. Being together for 4 hours and sharing our learning processes allowed us to grow together. We
had opportunities to discuss each person's research topics and give each other feedback. This in some way
also helped bring the class closer.
Attending the workshop gave students the chance to better reflect on their research processes and plan
their work more effectively. The presentation was informative and covered all the basics. Most
participants would recommend the course to any curious and young writers.
Zurück (2022)